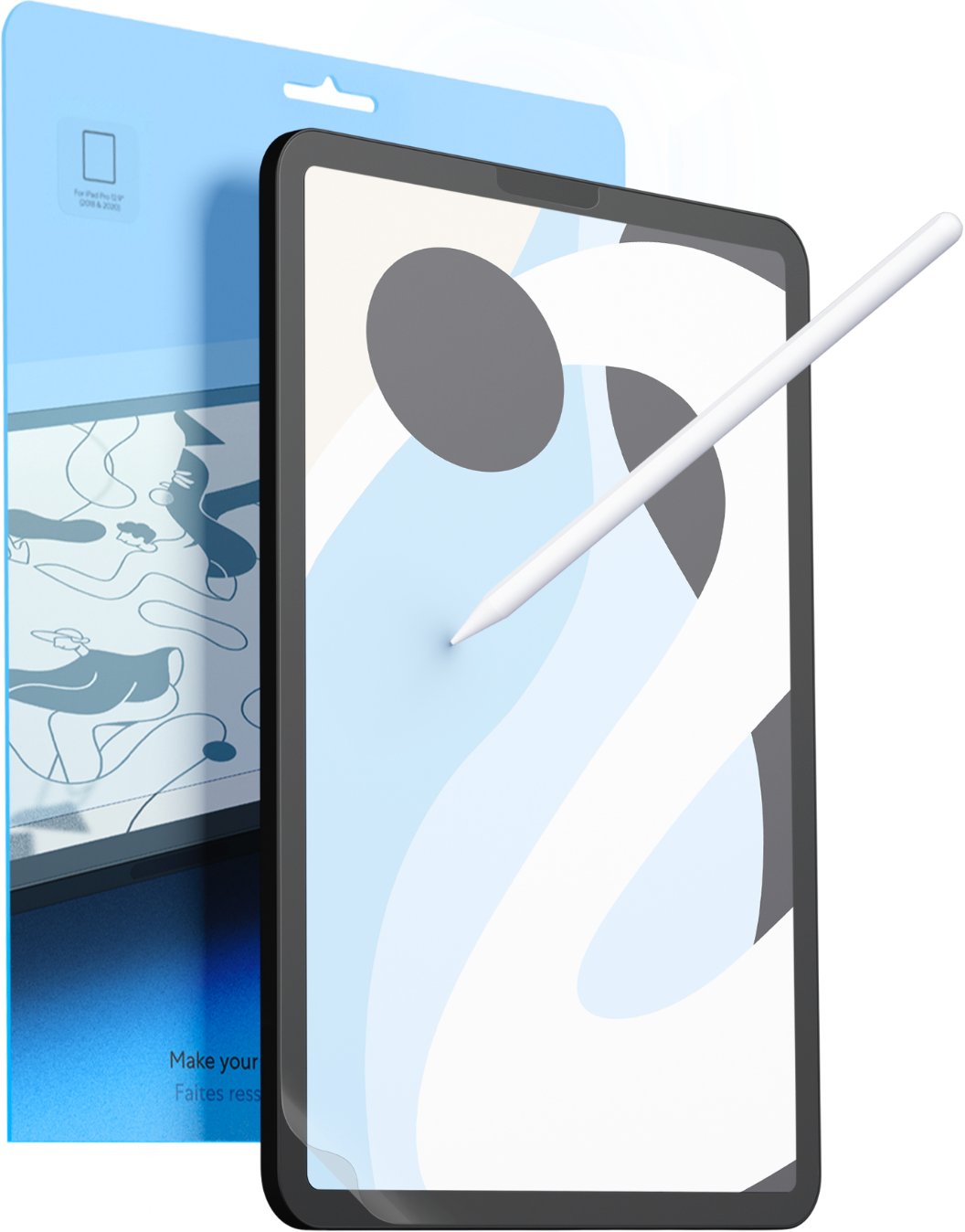 We help digital creatives do incredible things
Artists, notetakers, and busy professionals use Paperlike to do more with iPad and Apple Pencil.
Don't take our word for it
Hear all about it straight from our customers, with over 5,477 ★★★★★ reviews.
You really have to try this!
There is actually a lot more resistance between the tip of the pencil and the display now - it really changes the way the iPad feels.

I'm drawing on clouds of cotton candy
The nice texture and grip, make it easier to get what I have in my head on to the screen

Ramona MacLean
Illustrator
A must-have for graphic designers!
I always loved the idea of Paperlike. Being able to add this tiny layer to your iPad - that makes it so much easier to write and draw on the display - is incredible!
Feels like a massive upgrade
If you do a lot of handwritten notes or drawing on your iPad, the new Paperlike is a must. The newest version only doubles down on what made this product great to begin with.

Does exactly what it says
I'm a very heavy user of my iPad and I hesitated for a couple of months before buying my Paperlike and I really wish I hadn't!
It does exactly what it says, the writing experience is very similar to writing on paper and it doesn't affect the reading experience or any other use of my iPad. Fitting the Paperlike to the iPad was not hard at all. (I did watch the video two or three times though!) I'm so glad I got this, it has improved my iPad experience immensely.
Tony Cotton
Everything about buying Paperlike was exceptional. I accidentally ordered the wrong size, and a Paperlike representative sent me the right one for no extra fee. I don't know if I have ever experienced a company response as quick and gracious as Paperlike's. In addition, the product itself is phenomenal. I have been using my iPad for school. Having Paperlike significantly improves my ability to take notes and keep my screen clean. It is also just more enjoyable to write on the screen with the Paperlike texture. Fully recommend!
S.C.
I got a pack for my daughter and me and we love this! She's a graphic designer and artist and I do a ton of notetaking, digital journaling, and planning! Her art looks great and my handwriting is now legible! I wish they made one for the Amazon fire to. This works nicely for diminishing the glare! And it doesn't make the graphics look dull like some anti-glare screen protectors do. Great job Paperlike!
Sarah D.
I use Paperlike for notetaking (med school) and drawing (scientific illustrations) and I'm perfectly satisfied with the feel of it. I resisted switching to digital for many years because I'm a paper person - I went through my B.Sc. without a laptop. So yeah, this is big for me! I don't miss the notebooks.
Rubis Lantier-Théberge
I love my paperlike screen protectors!
I have bought these for an iPad mini and an iPad Pro, and really like them. I have had other brands of matte screen protectors, and I really like these the best.
Lisa Young
In the future, I plan on getting more because this pen I am using scratches the screen protector but even with a slight issue with my pen, I love how it sounds. It easily transported me from traditional art to digital art.
Koda Leqyia
Everything was great. This last order took a bit to get to me but I know it's not something in your control. My experience with your company and product has always been great which is why I continue to come back. I want to also note that the screen protector itself lasts longer than other similar screen protectors that do the same thing. Well worth the price because of the longevity alone.
Shawna Altergott
Bought this for my daughter's iPad because she loves using her Apple Pencil. She said it completely changes the experience for the better and loves it (and she's not one to usually offer up glowing reviews). Highly recommended!
Jason
I am excited about the Paperlike screen protector. Easy to use, great to use. Writing with the Apple Pencil now feels much more real than on paper!
Big advantage: the display no longer reflects. I can't say anything about how long the screen protector lasts - the test period is too short for that. Payment and shipping were completely straightforward.
Uta Marianne Müller
I love the Paperlike! I've been using it on my iPad 12.9 for the longest. I think I made a review before but wanted to follow up with having it over 1+ years and it stands up amazing! I want to see if the Paperlike company would look into making a privacy screen+ paperlike product. And have the privacy aspect on iPad with the fluent paperlike feel as well. I think a lot of customers would appreciate it. The product is already perfect and amazing and next I would say is just evolving it into even more of what you have.
Paul McGee Jr.
The paperlike screen protector is amazing!
I recently got Paperlike and I love it! The feeling of writing on this matte film is really like on paper! I think it's a perfect match for your iPad if you are a student or artist.
Ruslana Boiko
I loved the screen protector and the feel of writing in it, a great purchase.
Eduardo Ramírez Muñoz
I saw multiple iPad users using this product for drawing on the iPad with the Pencil, saying that it gives a paperlike texture as if drawing on actual paper. It does help create that little bit of resistance with the pencil versus that super slippery surface otherwise. I would strongly recommend it for any drawing enthusiast.
Anthea Micallef
The best film on the iPad when you draw.
Thank you for the good product. This is my second purchase! I'm a person who usually buys paintings with my own business, and I've used many iPad films, but this is the best. I'll buy it again next time.
Jisoo Lee
I am pleased with my purchase. This product feels like I'm drawing on paper. Also, I like the fact that my screen looks like there isn't a protector on there.
Jae D.
Good quality! Feels like I am writing on real paper instead of a screen!
Sze Yuen Fung
I highly endorse Paperlike for anyone who owns the Apple Pencil. I think owning the Apple Pencil without a Paperlike is underutilizing the hardware. Not only does it make writing and drawing feel much more authentic, but it also prevents screen glare and provides an added level of privacy from wandering eyes. Perhaps most importantly, Jan and the team at PaperLike are professional, courteous, and responsive, marking their customer service unmatched by most online businesses. Five stars for sure.
Michael Maione
I'm notoriously bad at putting on screen protectors, but the video and the setup of the Paperlike made it so easy that even a novice like me could do it. I love the matte screen and the way my Apple Pencil works on it. Wonderful product! Highly recommended!
Dawn
Designed for Creators & Doers
For digital creatives, Paperlike products are more than just iPad accessories.
They are essential tools that boost performance, improve productivity, and help to bring your unique ideas to life.
Do more with your iPad — with Paperlike!