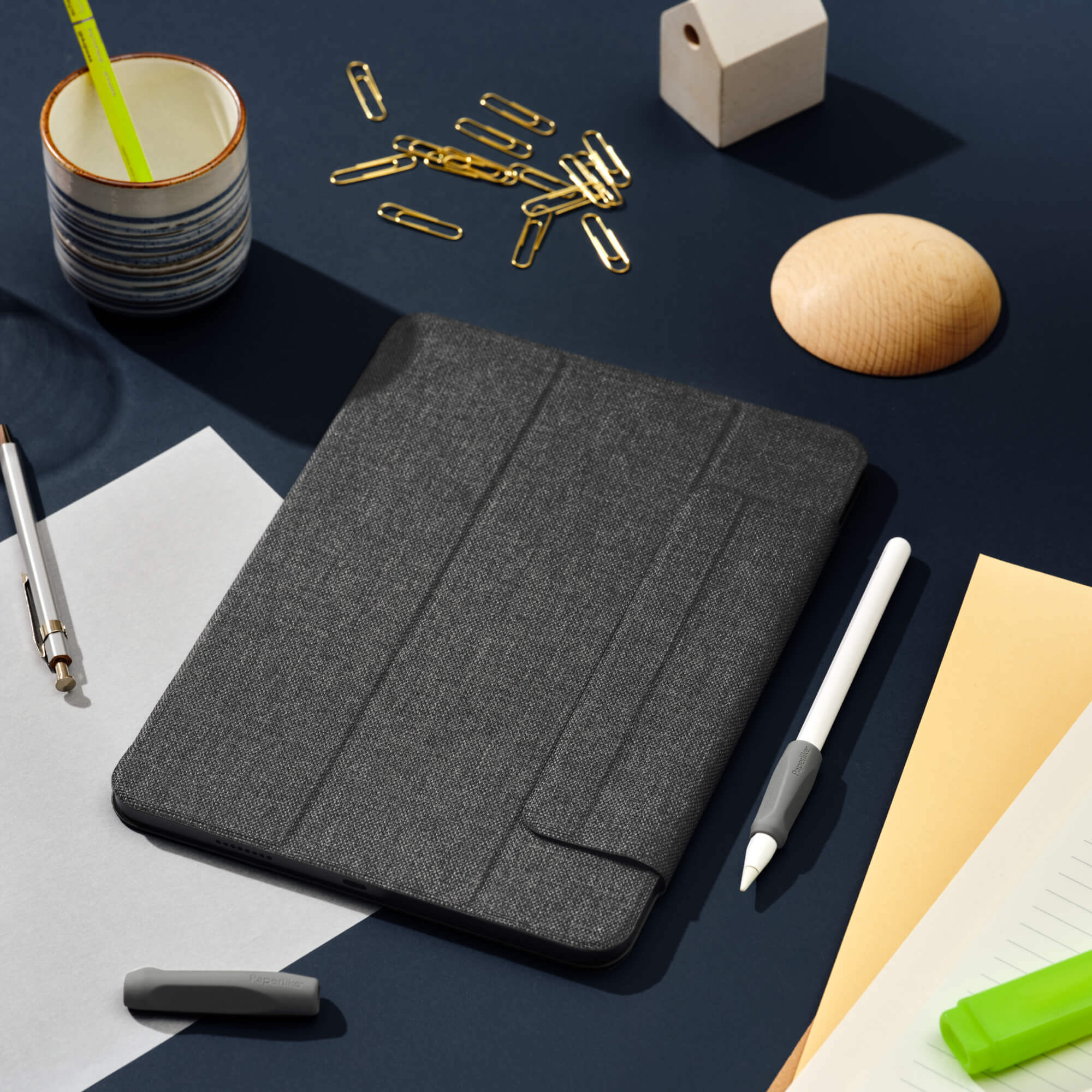 Paperlike's Charcoal Folio Case
Please identify your iPad Model (1st column), then your iPad display size, then which Generation your iPad is (release year) and you will find the corresponding Folio Case product (in the last column).
Clicking on the product name will then direct you to the exact size you need to buy for your iPad.

| Country / Region | Delivery Time (Business Days) | Delivery Fee | Delivers From |
| --- | --- | --- | --- |
| United States | 3 - 5 days | FREE | United States |
| Germany | 1 - 2 days | FREE | Germany |
| United Kingdom | 2 - 5 days | FREE | United Kingdom |
| Canada | 1 - 4 days | FREE | Canada |
| Australia & New Zealand | 7 - 8 days | FREE | Hong Kong |
| France, Switzerland, Netherlands, Belgium, Austria, Ireland | 3 - 6 days | FREE | Germany |
| Spain | 5 - 9 days | FREE | Germany |
| Singapore | 6 - 12 days | FREE | Hong Kong |
| Sweden | 4 - 8 days | FREE | Germany |
| Norway | 6 - 12 days | FREE | Germany |
| Detailed list of all countries | | | |
Free worldwide shipping to most countries (see details 
here
).
An individual tracking number is provided with each order to that you can keep track of your order delivery 
updates.
This product is rated 4.9 of 5.0 stars.
It has received 16 reviews.
Paperlike Folio Case - Must buy
I am absolutely satisfied and pleased with the new Folio Case from Paperlike. Good quality and grip, great fabric haptic and finally a case flexible and allowing for the pencil grips, securing the pencil when the folio case is closed.
Perfekte iPad-Hülle in Form und Funktion
Die beste Hülle, die ich je für mein iPad hatte. Funktional durchdacht und auch haptisch ein Handschmeichler.
Ideal, dass endlich der Stift mit bedacht wird. Endlich kein Suchen in der Tasche mehr. Die Lasche hält den Stift perfekt.
Beim Aufstellen kann man diese Lasche optimal nach hinten magnetisch fixieren ohne dass sie stört.
Nach mehreren Wochen Nutzung der Hülle möchte ich keine andere mehr!
Brilliant case
I'm very happy that I purchased the Paperlike folio case. The materials feel nice in the hand but what sets this case apart for me is the inclusion of the flap to keep the Apple Pencil in place as opposed to falling off every time it gets bumped or removed from a bag. A design feature seemingly so simple yet so important.
Sehr gutes Produkt
Das ist ein top Case. Das Material sieht gut aus, greift sich sehr wertig an und ist pflegeleicht.
Das Anbringen via Magneten erleichtert das rasche Wechseln zwischen dem Magic Keyboard und dem Folio. Der Stift ist gut ebenfalls gut geschützt.
Einziger Verbesserungsvorschlag: die Ecken vom iPad könnten besser geschützt werden.
Vielleicht gibt es ja bald eine V2 …
Danke Paperlike für dieses hochwertige Produkt!
Must have
As usual the team at paperlike have delivered a perfect blend of functionality and style. Great cover and love the pen holder.
Great work. Highly recommend