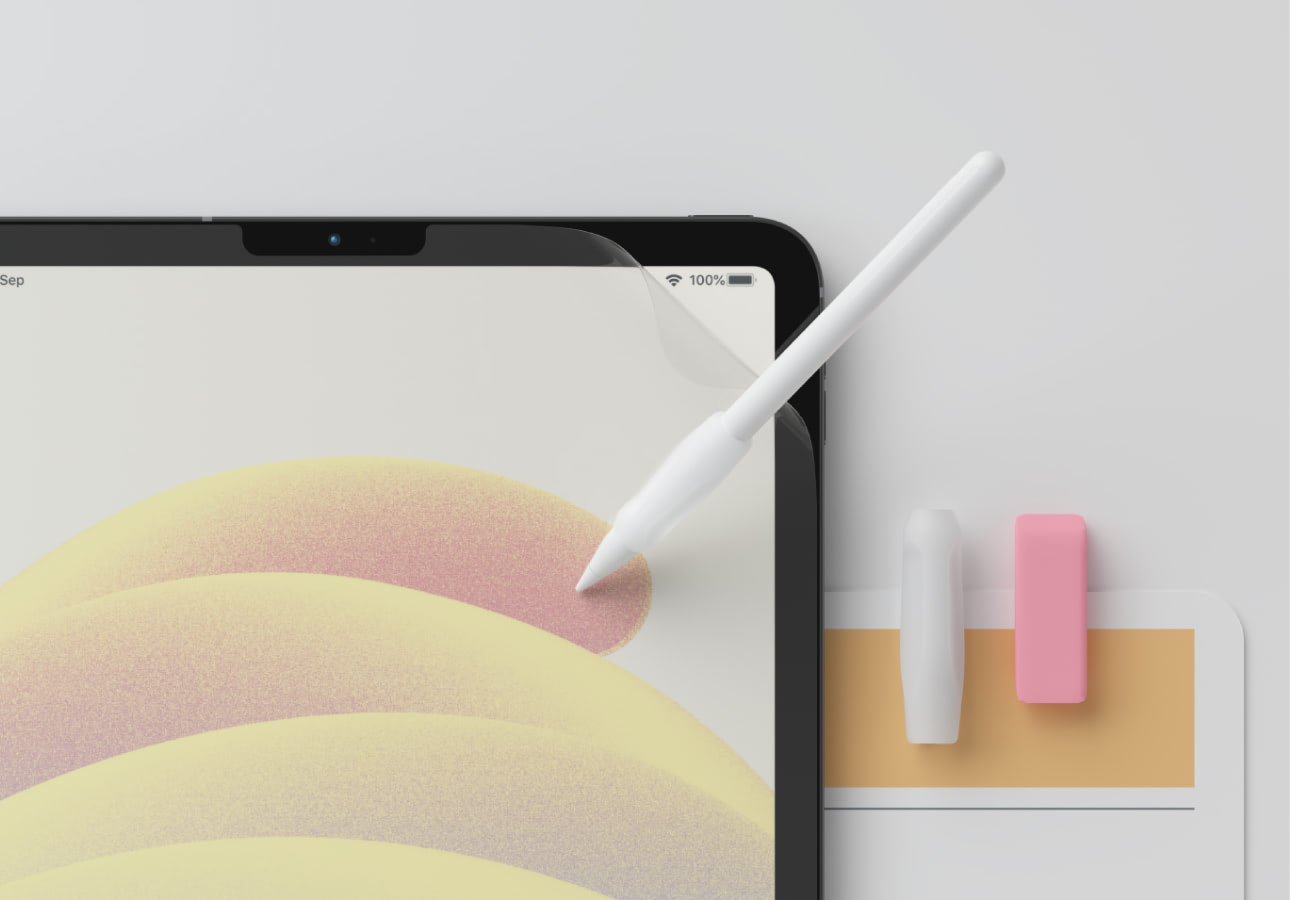 Regret buying the Apple Pencil?
The Paperlike is a screen protector that makes your iPad display feel like paper.
Say goodbye to rubber on glass and hello to the unmatched tactile satisfaction of Paperlike. Write and draw on your iPad with the precision and comfort of your favorite paper notebook.
Get the Paperlike
Writing on glass… just ain't it.
You bought the Apple Pencil because you wanted to bring the pen-on-paper experience you love to the digital world.
Instead, using the Apple Pencil on your iPad has been…
Slippery
Each rubber-on-glass stroke is a battle against control, leaving you with jagged lines and uneven strokes.
Frustrating
Instead of enhancing your iPad, the Apple Pencil just makes detailed work harder than it should be. Your hand sticks, your lines smudge, and the whole experience falls short of the promise.
Painful
Long drawing or writing sessions on the slick iPad display can lead to a cramping wrist, turning your flow of productivity into a painful chore.
Unlock the full potential of your Apple Pencil
The Apple Pencil experience could be just like writing and drawing on your favorite paper.
With our screen protector, you get…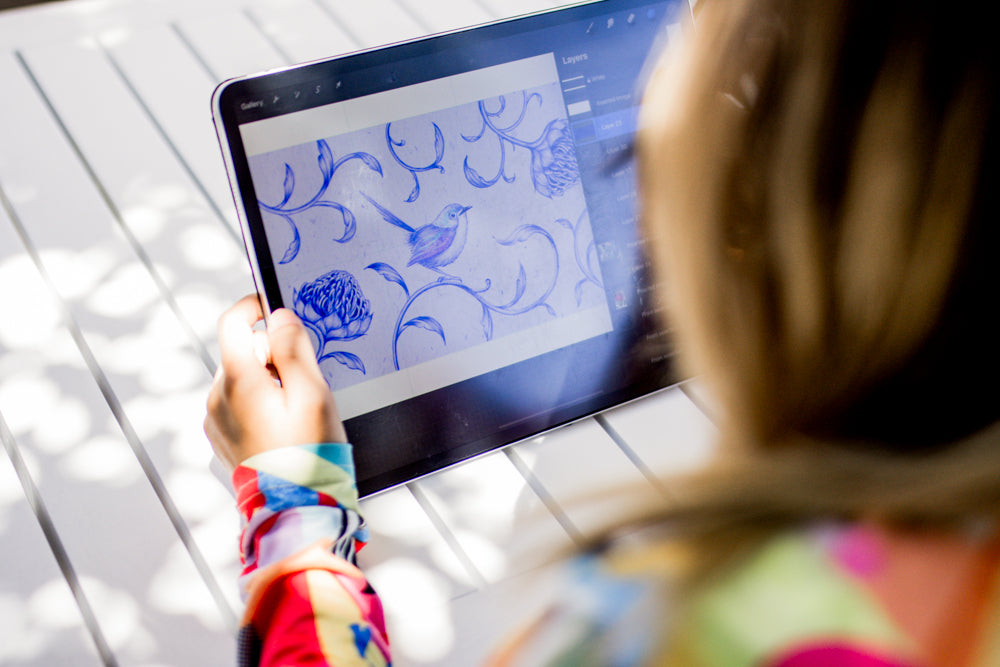 Perfect precision.
The Paperlike's finely tuned resistance mimics premium paper, turning each stroke of the Apple Pencil into a precise line on your iPad display.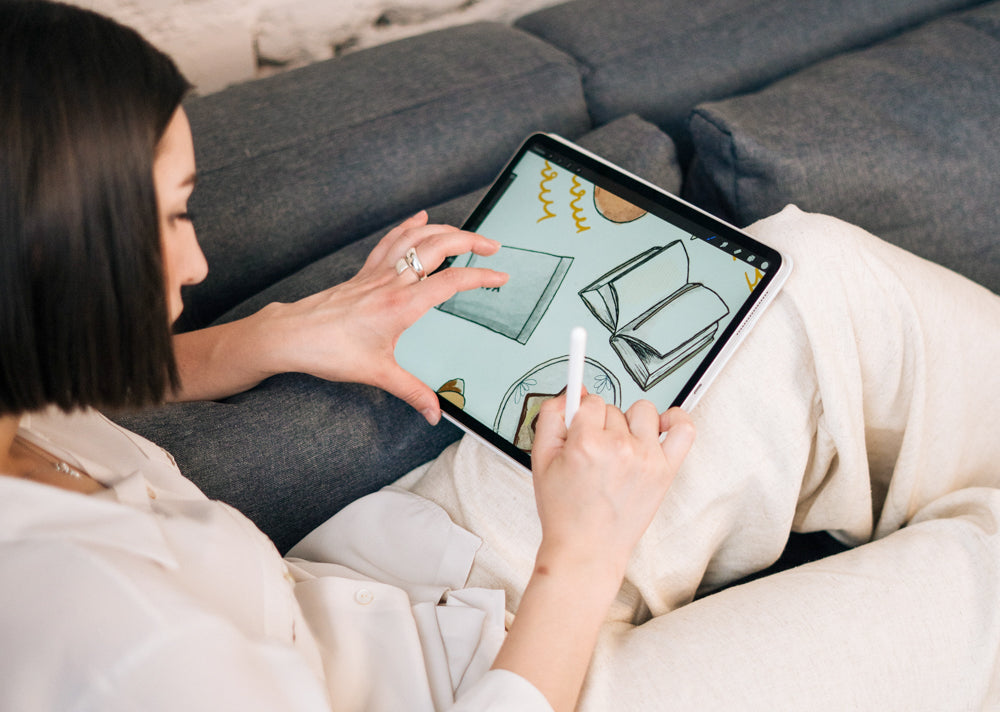 Enhanced control.
The increased haptic feedback of the Paperlike's surface offers the same amount of control you get when you write or draw on real paper.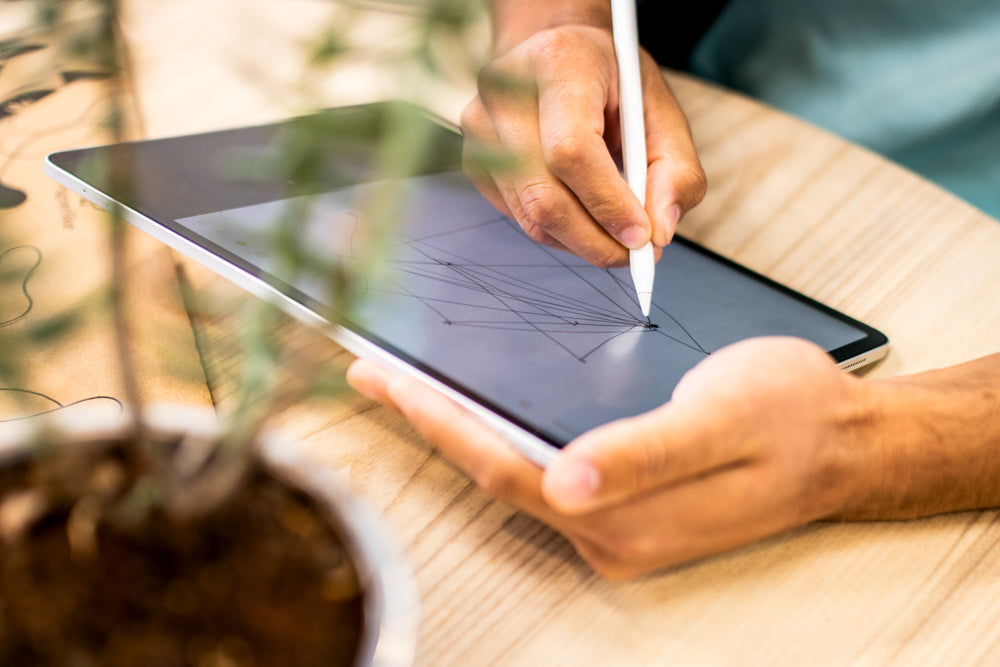 Maximum comfort.
With Paperlike, your hand rests naturally and moves freely, reducing cramps, wrist pain, fingerprints, and smudges.

Keep your Apple Pencil locked away in a drawer or enjoy the pen-on-paper experience it always should have been with Paperlike.
Get your Paperlike
But don't just listen to us ...
Lisa Woldrich, The Study Collection
"Perfect for anyone who uses their iPad to read and/or take notes!"
I love it because it really does feel as if I was writing on actual paper, and I can use my iPad outside because the matte surface reduces sun reflection. Also, thanks to the super intuitive instructions and the application kit that comes with every Paperlike, it is really easy and quick to apply to the iPad. The Paperlike is perfect for anyone who uses their iPad to read and/or take notes!
Jason Fried, CEO Basecamp
A wonderful screen protector
I've never enjoyed sketching on the iPad because I don't like the slick glass feel. I much prefer the subtle resistance and drag you get with paper and marker.

Paperlike is a wonderful screen protector that mimics paper. And it really works well.
Natalie Brown, @threeologie
I'm honestly impressed!
Over the weekend, I installed the new Paperlike 2.1 screen protector, and I'm honestly impressed! The new version has:

1. Increased picture clarity: so you're getting an even crisper tablet viewing experience.

2. New composite material: I can definitely feel the difference. It has more of a texturized feel which gives me more control of my Apple Pencil.

3. Works with the new iPads.

And, of course, feels like paper! That was my biggest issue when transitioning from paper to tablet. I wanted that paper feel. Working with paper just gives you more control over your drawing hand. The iPad screens are so slippery, so the Paperlike really helps with that.
Make your iPad feel like paper.
Get your Paperlike for precise strokes, better sketches and cleaner notes.
Makes your iPad display feel like paper.
Improves precision and comfort.
Prevents fingerprints and smudges.
Maintains the iPad's touch sensitivity.
Satisfaction guarantee (or money back).
Designed in Germany & manufactured in Switzerland
Shop PAPERLIKE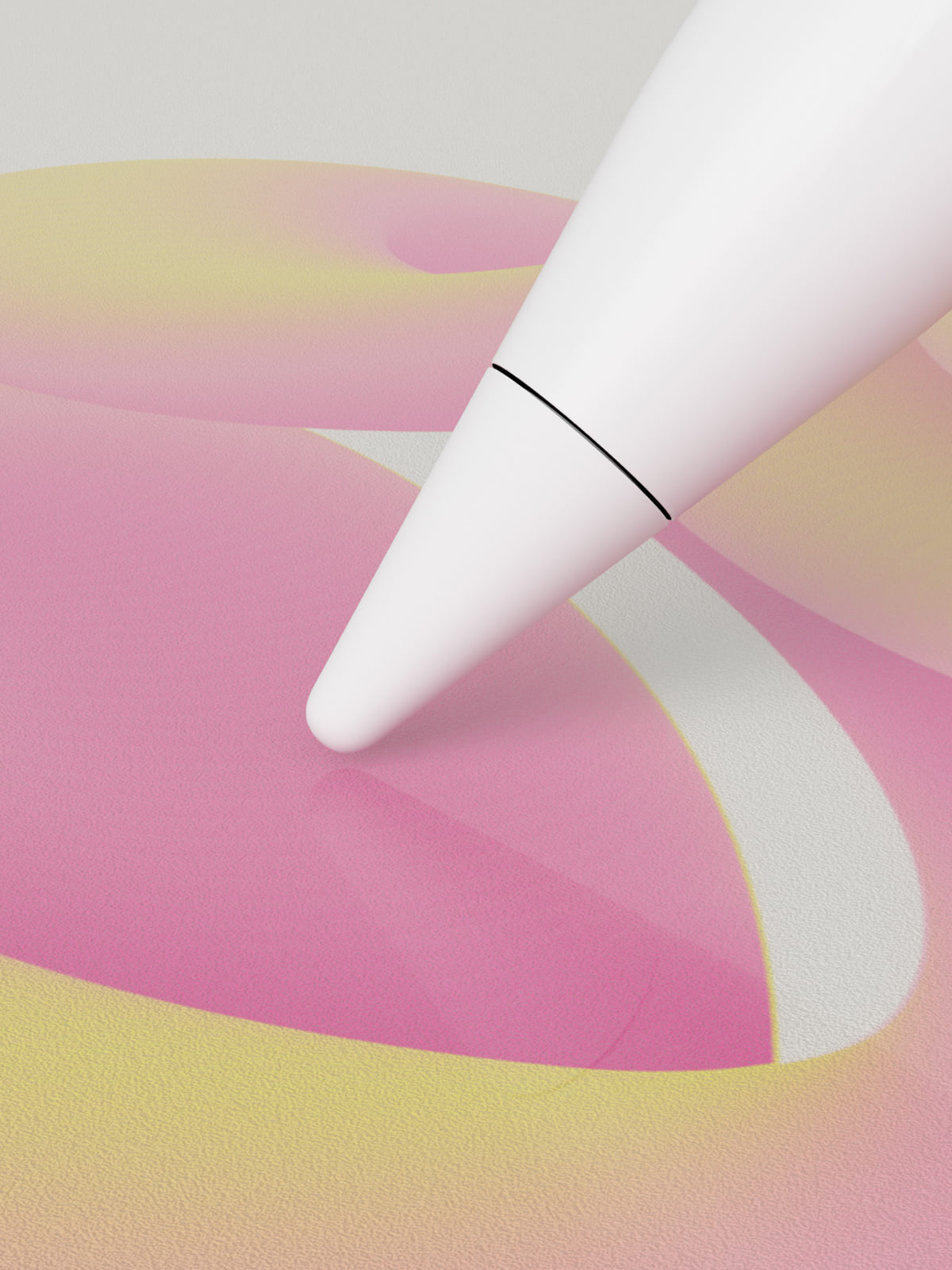 How does it work?
Nanodots are the teensy, tiny micro-beads responsible for giving Paperlike its unique, papery feel.
They provide haptic feedback in the form of ever-so-slight vibrations that emulate the natural drag and resistance of sketchbook paper. The sensory feedback allows you to create more precise lines, whether you're taking notes or working on your next artistic masterpiece!
But the Nanodots deliver more than our unique, papery feel. They're also responsible for the unparalleled transparency that you won't find in other matte screen protectors.
Our Nanodots are distributed evenly across the surface of our screen protector using a unique (and completely secret) process that took years to create.
The result?
A screen protector with improved resistance, maximum transparency, and minimal distortions.
Why is Paperlike more expensive than other Screen Protectors?

We get this question pretty often, and we're glad to share that most users find Paperlike "100% worth it" after trying it.

Here's some of the reasoning behind our price point:

Paperlike comes as a set of 2 screen protectors, not just one.
We invest a lot in research & development to improve Paperlike. The current versions development cost us 150.000€ alone.
We manufacture in a top-tier facility in Switzerland, to ensure excellent quality.
You invested a lot in your iPad and Pencil. Since you can only have one Screen Protector, you likely want to choose high quality over saving a couple of bucks.
Shipping times are as follows:

2-5 business days in the US
2-14 in Europe (depending on your location)
Next-day in Germany 
We're pretty confident you will (only 3% of users take us up on our money back offer!).

If you happen be one of the few, just write us an email to activate the 100-day money back guarantee.
What is writing on Paperlike REALLY like?

We've spent years of research and development to achieve the most paper-identical iPad writing experience available, so we'd argue it feels just like writing on paper. But don't take it from us – here's how real Paperlike customers describe it:


"As somebody who liked using notebooks and when I bought my iPad, Paperlike gave me back that feeling. I honestly love using my iPad now." -Ken S.
"My drawings come out smoother, lines are easier to draw, and the pencil actually listens to me now." - Ella R.
"So easy to take notes, it feels like I'm writing on a physical notepad."
-Elzanne B.
"Extremely comfortable to draw and sketch on, making pencil movements a lot easier." -Julia D.
Is the Paperlike hard to apply?

We include an application kit in every package, which makes a bubble-free application a breeze for everyone.

Make sure to watch our application video for best practices and tricks.
Does Paperlike wear off my Pencil tip?

All surfaces wear off the Apple Pencil tip over time, even a plain iPad display. Most paper-like copycats use a surface similar to sandpaper and will rub off the tip in no time. 

We developed our Nanodots technology to provide the rough feedback needed for a good paper feel without wearing your Pencil tip down too quickly. 

Most of our customers rarely change their tips. Heavy users (6h/day drawing on the iPad) replace the tip roughly every 3 months.
What makes Paperlike better than other matte screen protectors?

While other protectors can be too rough or have a gummy-like slipperiness, the Paperlike strikes the right feel.

In addition, it maintains a clear display with minimal refraction, ensuring that the screen remains readable without the glare that can be a downside of other matte protectors.

Pencil tip longevity is another area where we're proud of our unique technology. Some screen protectors can rapidly wear down Apple Pencil tips, but Paperlike is designed to be gentler on the tips, extending their lifespan.

Finally, adhering to Apple's recommended maximum thickness, Paperlike's 0.95 nm thickness does not interfere with the touch sensitivity of the iPad, unlike some magnetic protectors that range from 1.5 nm to 5 nm, which can impede the functionality of your iPad.
Does the display quality worsen with a Paperlike?    

With every matte screen protector, you'll see light refractions. Compared to cheap matte screen protectors and most copycats, our Nanodots technology keeps it to a minimum. 

Many of our customers value the matte finish. It allows them to use their iPads in bright environments with lots of light sources, like the outside in the sun. 

Smudges and fingerprints are also invisible, making for a much cleaner experience.
Does my Apple Pencil become less responsive on the Paperlike?

The further the Pencil is away from the screen, the less responsive it is. That's why Apple recommends only using super thin screen protectors that measure less than 0.1 mm.

The Paperlike is just 0.09 mm thick — about the thickness of an actual sheet of paper. It works perfectly with the Apple Pencil. That's what we made it for, after all.
Keep your Apple Pencil locked away in a drawer or enjoy the pen-on-paper experience it always should have been.
Get your Paperlike
100-day money-back guarantee
Free shipping to most countries
Shop PAPERLIKE