Why You Should Start Digital Planning
Time flies, especially if you aren't keeping track, and it's easy to feel like there just aren't enough hours in the day to get things done.
That's where digital planning comes into play.
Digital planning allows you to make better use of the time you have by helping you put your goals, ideas, and dreams into a format that evolves and changes with you.
Use the monthly planner or weekly planner to get a bird's eye view. Use the daily planner when it's time to get in the weeds and build something great. Then carry those tasks forward each day until you achieve your goals.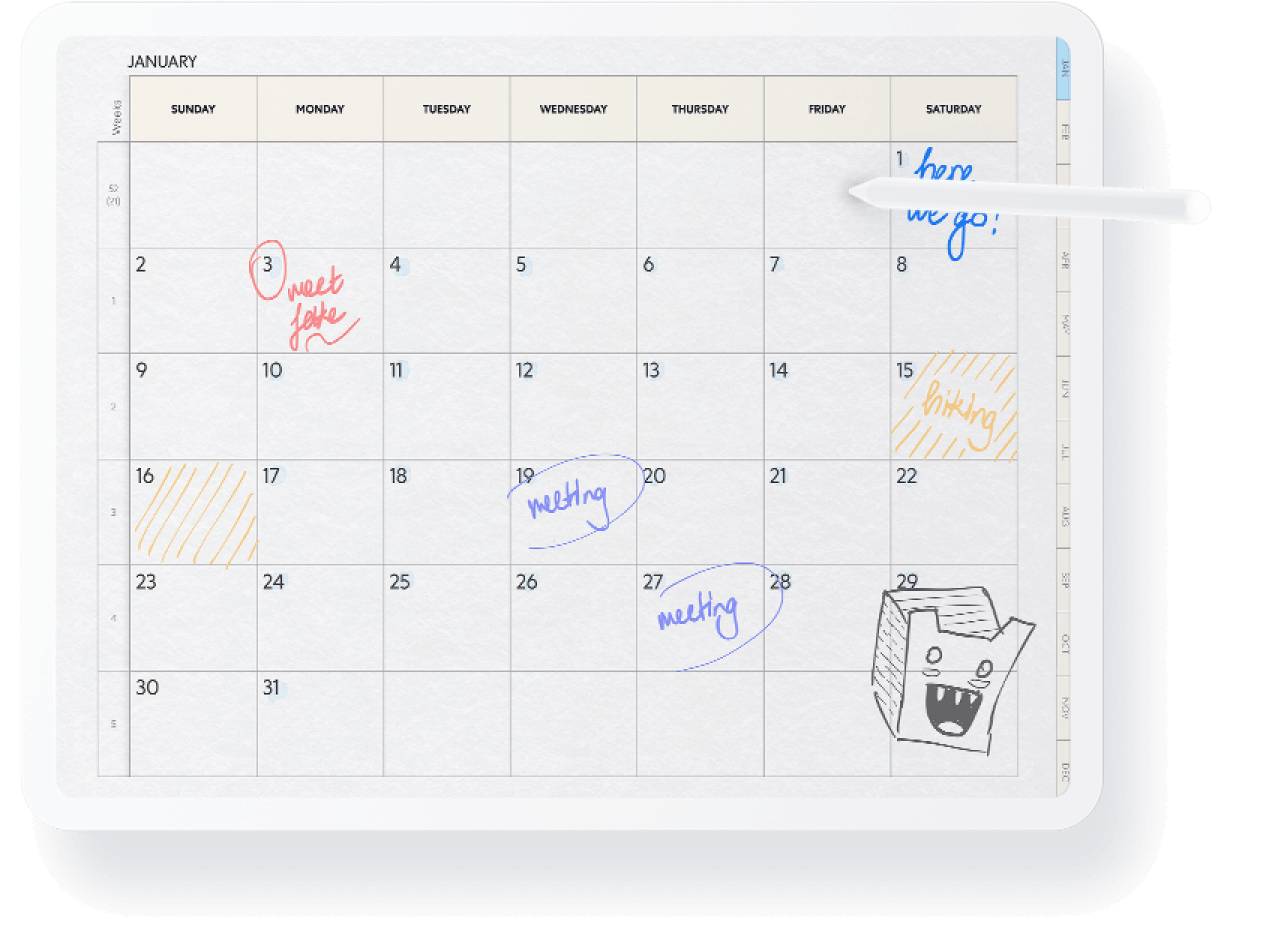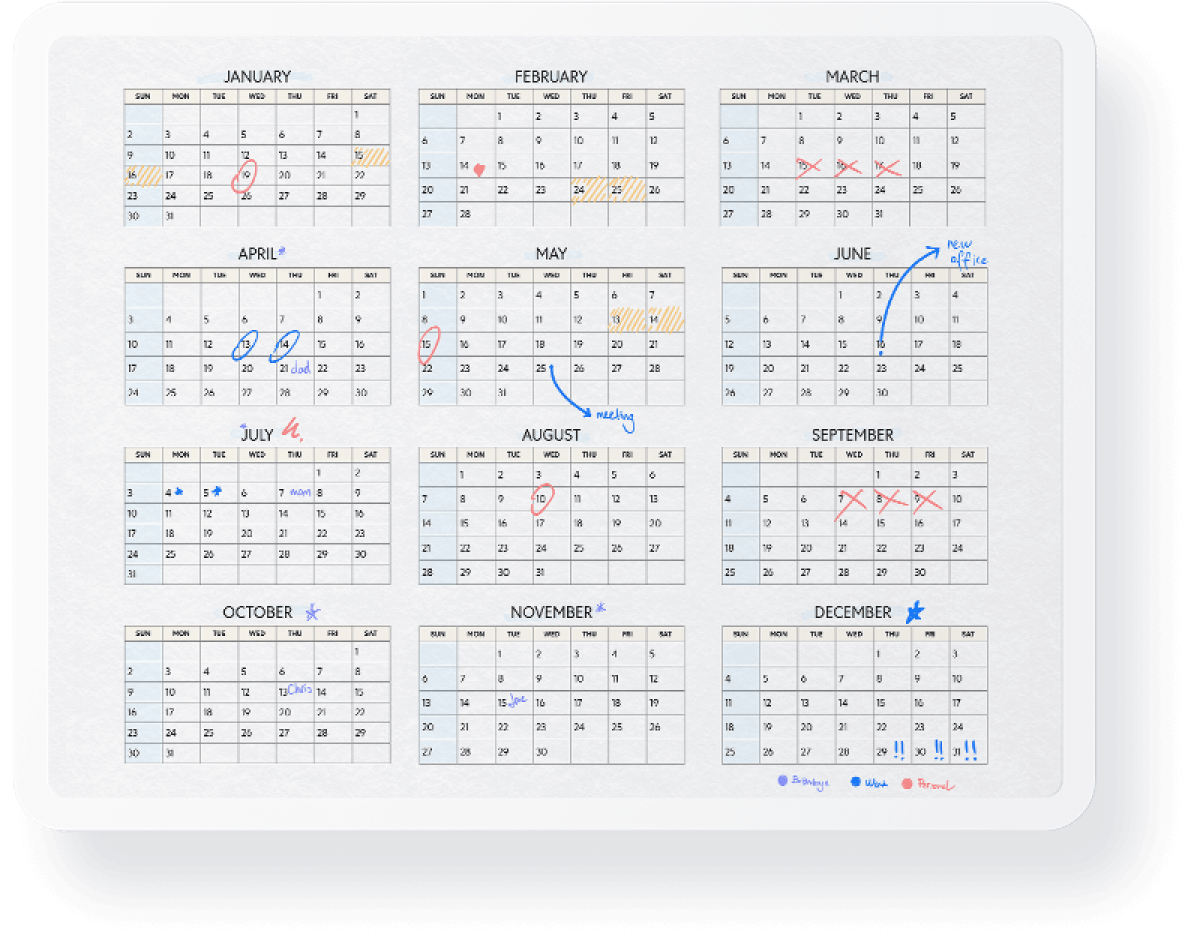 Make a Plan & Get Things Done
A daily planner gives you all the tools you need to stay on top of your day and keep track of the "now" before it happens.
The Paperlike Digital Planner contains the following formats and templates:
Yearly Page
Monthly Page
Weekly Page
Daily Page
Our planner provides you with tools to schedule your day, create to-do lists, set your top priorities, take notes, and more. Hyperlinked pages allow for easy navigation between days and months.

 
Plus, because the Paperlike Digital Planner is built with a minimalist and flexible design in mind, it's easier than ever to add stickers, additional planning templates, and other planner pages to build out your own, custom design.
Daily planners aren't new. You can probably purchase a paper planner for your personal use at most markets and corner stores.
But digital planning is more accessible if you always have your electronics with you.
Cloud storage can also help you store copies of your digital planner across multiple devices. Start planning on one device, then grab another device and pick up where you left off, and never lose your progress. Use the GoodNotes app to switch between iPad and Mac, or use Noteshelf to switch between Android and iOS.
It's fast, it's simple, and it's always with you.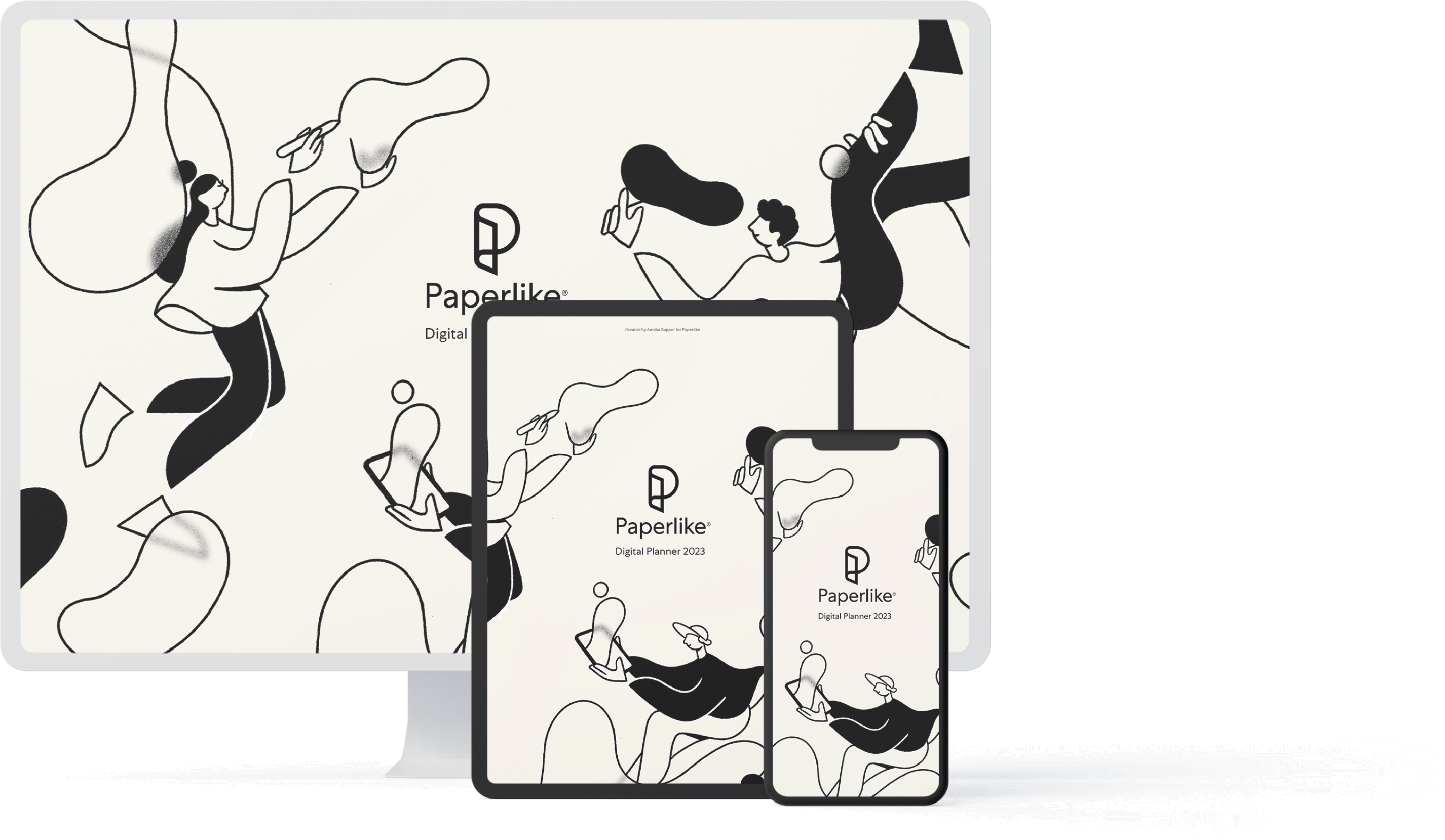 Get the Premium Planner Pack
Digital planning can be very effective, but it's easier to manage when you use a planner that's designed for your specific needs or comfort.
That's why we've created multiple versions of our digital planner and included each in the Premium Planner Pack.
Included in this pack, you'll find:
Pro Planner.
Paperlike Weekly Planner.
Paperlike Daily Planner.
Not sure which is easier on the eyes? Test out both dark and light mode to see which feels better, as you'll find each available for all three planners.

 
Choose which start day you prefer for the Pro Planner or Weekly Planner. Don't need the monthly calendars? No problem. Download a smaller planner to hash out your weekly or daily schedule.
Take your digital planning to the next level with any of these personal planners.
How To Use Your
Paperlike Digital Planner
How to upload the Paperlike Digital Planner to GoodNotes or Notability
Download the digital planner PDF-file to your iOS or Android tablet.
Import the new document in your preferred notetaking app. On iOS, you'll use the Share feature to export your PDF.
Start planning
Sign Up to Get Your Free Digital Planner
We update the planner twice a year, and we'll notify you when there's a new version.
Join over 100,000 subscribers and stay in the loop. We send a few emails per month with reviews, tips, and other free goodies to help you improve the way you write, draw, and work with your iPad.
*If you're already subscribed, fill out the form to verify your email, then refresh the page to see the download link. If you have any issues seeing the form above, try turning off your adblockers and ensure you have cookies enabled.
Frequently Asked Questions
Is your planner template fully editable?
For the most part, yes. The pages you'll receive as part of your download are in PDF format, and they are hyperlinked.
You can customize the layout of your planner as you see fit by adding inserts, pages, and additional planning templates without affecting how the digital planner pages interact with one another.
What does the Free Paperlike Digital Planner include?
Our free planner contains the following formats and templates:
Yearly Page

Monthly Page

Weekly Page

Daily Page

All of the pages are linked together using hyperlinks, so navigation is fast, simple, and easy when using your favorite notetaking app.
Some digital planners come with extra space for notetaking or journaling. Others include a digital notebook as a freebie.
While we don't have these available inside our planner, we do offer an interactive digital journal that you can download right here.
What does the Paperlike Premium Planner Pack include?
Our Premium Planner Pack contains ten different planners to cover all your needs, including:
Pro Planner

Paperlike Weekly Planner

Paperlike Daily Planner

Choose from light or dark mode on any of these planners, pick your start date, and find the one that suits your personal planning style to get the most out of it.
Can you add X thing (habit tracker, digital planner stickers, meal planner, etc.)?
We have plans to continue expanding and evolving the Paperlike Digital Planner over time, and newer versions may include these features.
However, we don't have a clear timeline for the next release.
We do offer a Groovy Productivity Sticker Pack that you can download to use with your planner right here.
Otherwise, we'd recommend supplementing and customizing your planner with additional pages as you see fit. Simply insert them into the desired location to use with your planner.
Is the Paperlike Digital Planner dated or undated?
We offer a digital planner with pre-formatted and pre-linked dates. With undated planners, you'd have to write in each date manually, so we've done the heavy lifting for you.
The big plus with undated planners is that you can reuse them over and over again — but, whether you choose our free planner or the premium pack, our planners will be updated each year, so you'll always have an up-to-date calendar to start your year off on the right track!
Does your iPad planner work with any iPad?
Yes! You'll receive a PDF file when you download the planner, and this file type is universally recognized by all iPad models and (most) notetaking apps..  
Depending on the model (iPad Pro vs iPad Air/mini/etc.), the planner may not be a perfect fit for your screen dimensions, but it should function equally well across all devices.
Your digital planner PDF is even printable if you'd like to have a paper planner on hand as well..
Do you have a tutorial for your planner?
Yes! An instructional overview of each page and how your planner pages are connected, is included as part of your planner download. Remember to navigate using View Mode (see question below for more info if your links aren't working).
Why do the weeks start on Sunday instead of Monday?
A large portion of Paperlike's audience (the majority) are in North America, where the standard is to start the week on Sunday. Why do they still call it the weekend? We don't know!
Fortunately, you can pick up our Premium Planner Pack, which includes Monday start days.
The links in the planner don't work. What's wrong?
Notetaking apps like Goodnotes have two modes: View Mode and Edit Mode.
If you're trying to click a link to go to a specific day, week, or month, and it's not working, chances are you are in Edit Mode.
Switch to View Mode as indicated in the screenshots below to navigate the document. Switch back when you're ready to write.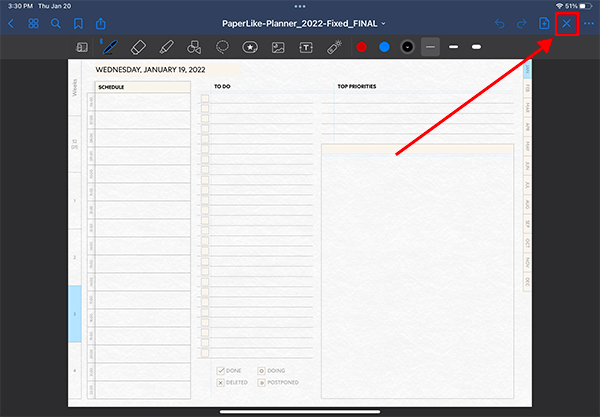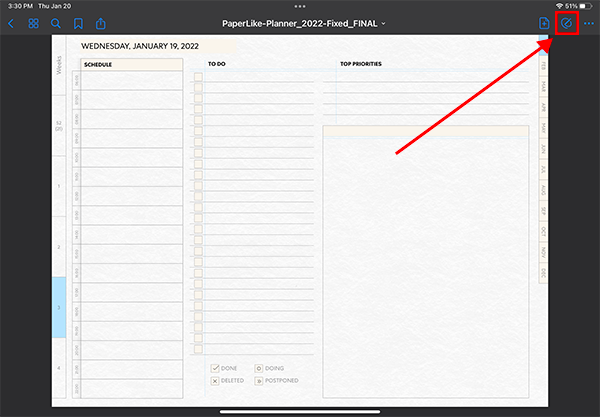 Learn More About Daily Planning
Want to get started with daily planning? Here, we've collected some tips and resources to help you get started with daily planning. Even if you're a veteran digital planner, you might find some of these assets useful!
Schedule time to make a plan.
Build flexible schedules.
Set achievable / realistic goals.
Prioritize both weekly AND daily tasks.
Refer to your planner a few times a day.
Group similar tasks together when possible.
Carry unfinished tasks forward.
Use your planner the way you want to use it.
Taking advantage of digital planning tools
Unlike traditional planners, digital planners are highly customizable and are equipped with a variety of tools to ease navigation and streamline your organizational process.
If you have a creative mind, this is great because it allows you to write and draw as you see fit. Want to mark up your to-dos with pastel colors? Select the color in your notetaking app and get started. Have a gift for lettering and want to beautify your planner pages? No problem..
The best digital planners are also flexible enough to accommodate freebies and supplements that you might want to add to your planner. These might be digital planner stickers that you found online, planning pages you've made in apps like Canva, or similar downloadables.
What's more: The notetaking app that you use will probably have a variety of powerful features to enhance your planning skills. Apps like GoodNotes, Notability, and Noteshelf each offer the following:
Handwriting recognition for fast and easy searching.
Template tools for easy page duplication.
Sticker and image support (JPG, PNG, etc.).
Writing and highlighting tools.
Audio recording tools.
Stylus support (Apple Pencil, Logitech Crayon, etc.).
Keep in mind that, while we strongly recommend notetaking apps, dedicated digital planner apps also exist. It's also entirely possible to create inserts and additional pages using art apps like Procreate and Adobe Fresco, then import those pages into your digital planner to be duplicated as necessary.
The possibilities are endless!
So pick up your iPad, grab your copy of the Paperlike Digital Planner, and get started today!